With the coming of the internet and the drastic change in life with the recent pandemic, the internet has become a turning stone for the educational system. All tuition and tutorials are now done online. But how did that change for something as special as music education?
Are online music tutorials worth it?
The internet works as well as a book because there is the visual aspect of it. Knowledge can be imparted easily and music files can be shared easily. Now we have various apps available where one can learn music easily.
Using Metronaut App to learn music
Metronaut App is specialised in learning classical music. It is available for download on the Apple store. Below, we will dive a little deeper into this app to analyse its features:
Step 1: You can choose from various instruments namely:
    

violin

    

Viola

    

Cello

    

Double bass

    

Piano

    

Flute

    

Classical guitar

    

Voice

    

Clarinets

    

Trumpets

    

Saxophone

    

French horn

    

Bassoon

    

Tuba

    

Euphonium

    

Mallet

    

Harp
Note that you can change your instrument at any time
Step 2:  Choose your level
You have the choice on metronautapp between the followings:
    

The beginner level

    

Basic level

    

Intermediate level

    

Expert level
Step 3: Activate notifications
This will allow the app to send you notifications to practise. The purpose is for you to be motivated and be consistent.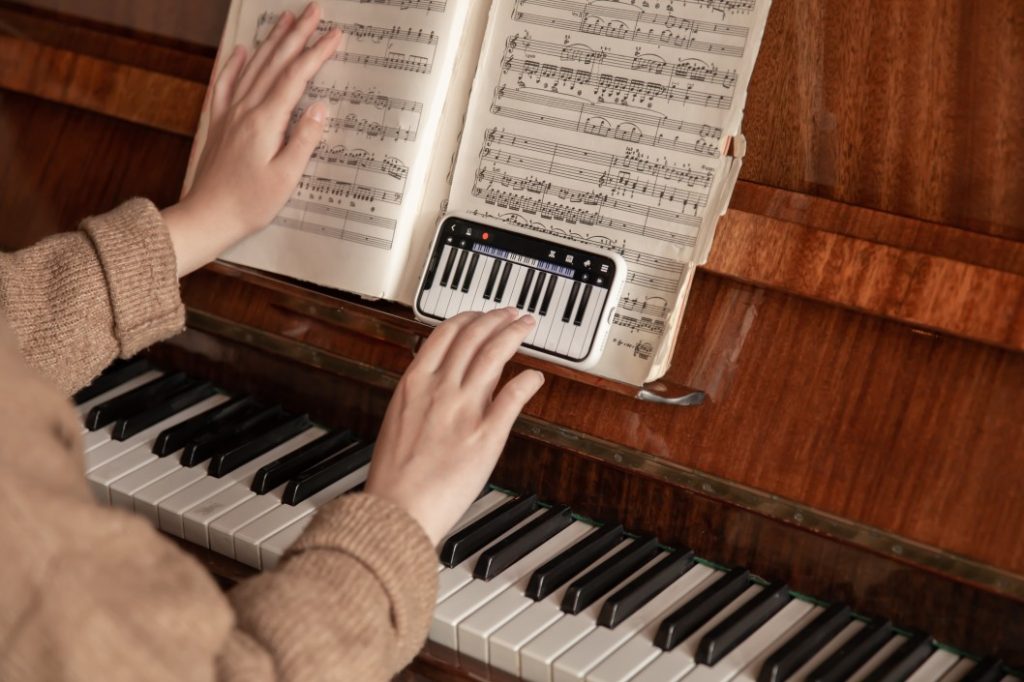 Step 4: Set your goals (daily, Weekly and weekend)
 Hitting a purpose without any goal is a waste of time. The app allows you to set your personal goals so you can develop good learning habits.
Once your account is set, you can now surf on 'My Music', 'Discover' and ' Catalogue' 
Step 5: Discover option
 On 'Discover' find various music compositions available that you could practise with. They are categorized from different themes such as:
    

Your repertoire

    

Classical music Hits

    

Childhood memories

    

Halloween

    

Christmas and so on
 You just choose the song you want to practise. You will also have exercises for more practice.
 Once your choice is made, you can view the worksheet and select the mode of learning and tempo level. 
Modes of learning:
  

Listening mode:

 whereby you can listen to your work and the accompaniment and compare.

  

Sight reading mode:

 you learn the notes of the worksheet without accompaniment and it is done at your own pace.

  

Training mode:

 the focus is on the rhythmic accuracy.

  

Performance mode:

 you play at the speed you are comfortable with.

  

Magic performance mode:

 you control the speed of your performance and the accompaniment follows you
Furthermore, choose the tempo you are comfortable with. Other features are metronome, loops, countdown, volume, etc. 
Step 6: 'Catalog' Category
 If you want to find a specific piece, click on the 'Catalog' Category, where you can search by piece title, composer name, and instruments or by the level of difficulty.
Note that once you have clicked on a piece, it is downloaded and saved to your device which you can use offline or without internet connection later.
Step 7: By clicking on the 'setting' icon, you will find various tools offered to enhance your learning namely:
    

Annotation: Annotate the parts that are difficult with your hands or Apple pencils

    

Record your work

    

Tune your equipment

    

Change your Display according to your choices

    

Change version: if it is applicable you can change the version of the piece selected into (

    

Print the sheet
Step 8: Add your microphone to your device and get started.
Conclusion
With Metronaut App, get inspired to learn about music with the different features and worksheets available in the 'Catalog' category. Broken down into short lessons, the songs selected are from various composers to increase your level. You can also find more than 4000 Interactive Music Sheets for free.